On my way home the other day, I spotted a scattering of articles offered by a neighbour about to move out of his apartment. Normally, it's Lise who is attracted to rummage sales, but in this case it was I whose attention was roused by spotting one particular item : a small mobile cart used by artists to store their instruments and supplies. I crossed the street for a better look and questioned the young boy in charge of the stand.
« Is this trolley yours?
— No, he replied, it's my father's.
— Has he owned it for a long time? »
He nodded in the affirmative.
« Since the 70's?
— Yes. »
With each of his answers, the young lad was progressively transforming my initial naive hope into an exciting possibility.
« Look, said Lise, pointing a finger at the cart's bottom-most shelf. It's signed! ».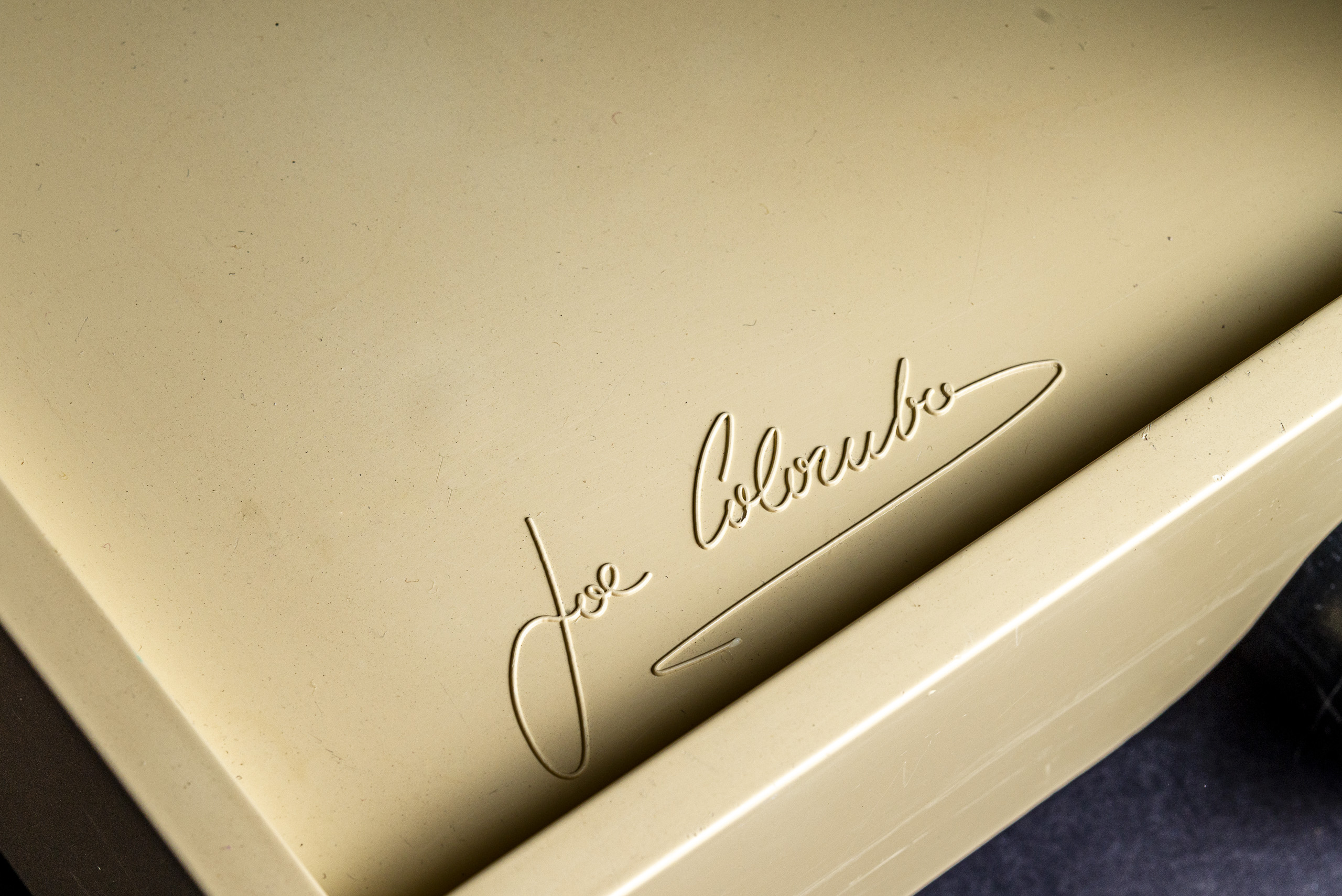 Bingo! This was the confirmation I was looking for : I had stumbled upon an authentic Boby, the mythical artist's trolley created by the Italian designer Joe Colombo.
« How much, I asked, knowing full well that his answer wouldn't make one iota of difference.
— Ten dollars.
— Sold! »
And that is how, for ten dollars, I became the owner of what was, during my years in art school studying industrial design, a veritable icon of Italian Design. I dreamt of owning a Boby to assist me with my creative projects, but its price was beyond what my student budget could afford. I consoled myself by analyzing its formal and technical characteristics that I found in the manufacturer's catalogue and in articles on the Boby that appeared in design magazines.
Among the many creative works that Joe Colombo left us in the wake of his tragically brief career, the Boby trolley is undoubtedly the most famous. Designed in 1970, it was produced by Bieffeplast until 1999 and subsequently by the Italian company B—Line. More than fifty years after its creation, this product continues to shine as a masterful demonstration of the principle of modularity. In spite of its apparent complexity and the numerous arrangements that it offers, the Boby trolley is comprised of only two major parts : a base platform and a shelf module.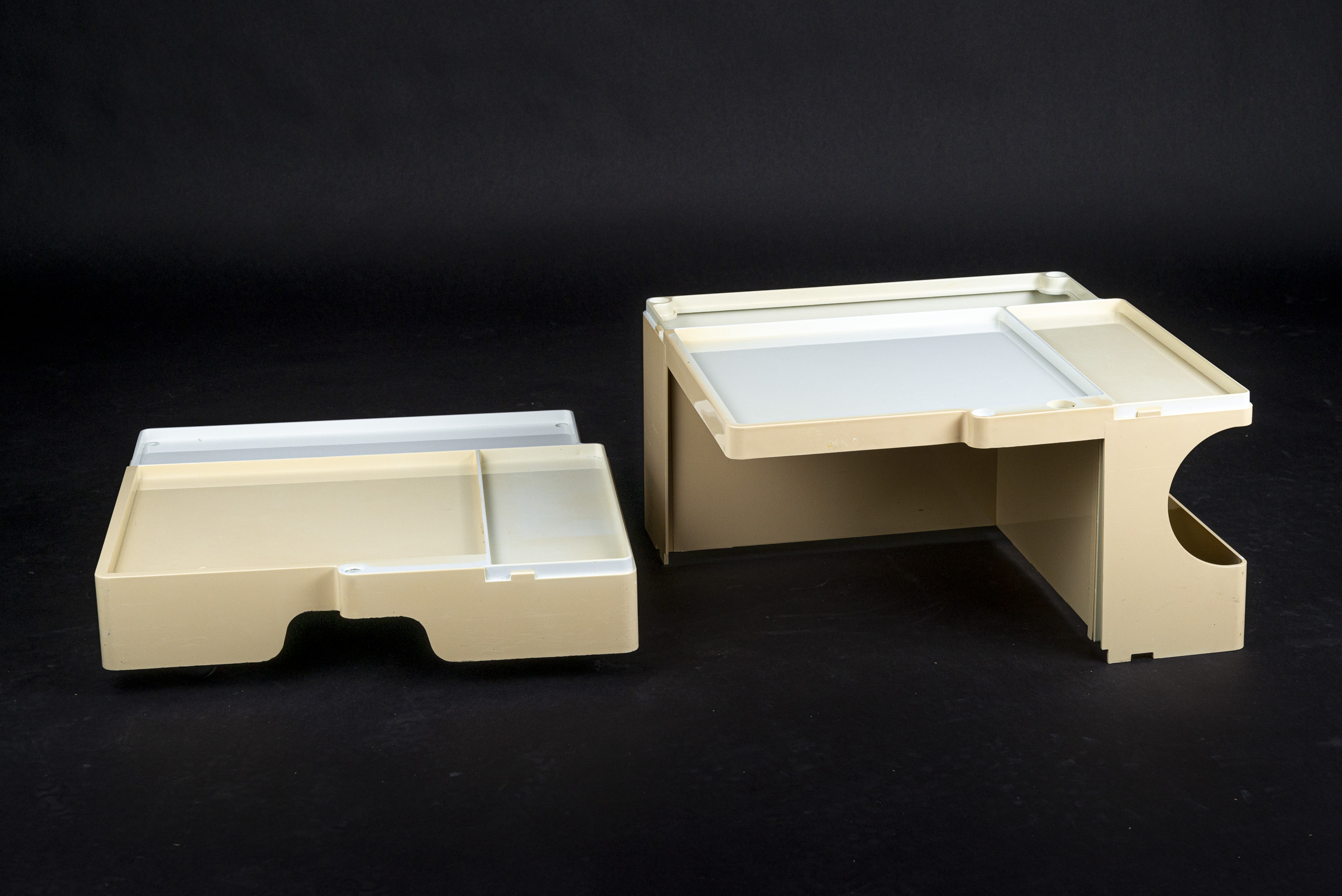 All the configurations of the cart are generated by a single base platform and from one to four identical shelf modules. The photos show the base on which are successively stacked shelf modules to create carts of varying heights.
Between two and eight pivoting drawers, available in two depths, are then added to complete the cart's configuration. The entire assembly is held together with three T-nuts screwed onto the end of threaded rods. It is astonishing that from such a limited parts list, B—Line offers the Boby trolley in 14 different versions, in addition to seven colours. This modularity is rendered possible with the use of ABS plastic and injection-moulding, a technology that Joe Colombo exploited admirably in the resolution of the geometric complexity of Boby's main components. Injection moulding is ideally suited to mass production, but requires major initial investments to produce the moulds. Thanks to its limited number of parts and relatively large production runs, the Boby could be offered at a competitive price.
Once I got my new acquisition home, I immediately set to the task of its dismantling, cleaning and reassembly, a project that took most of the next three days to accomplish. Pleased with the final result, I took the Boby into my studio for a photo shoot. In spite of some discolouring due to UV exposure and surface wear on some shelves, the cart had now regained the lustre of its initial state.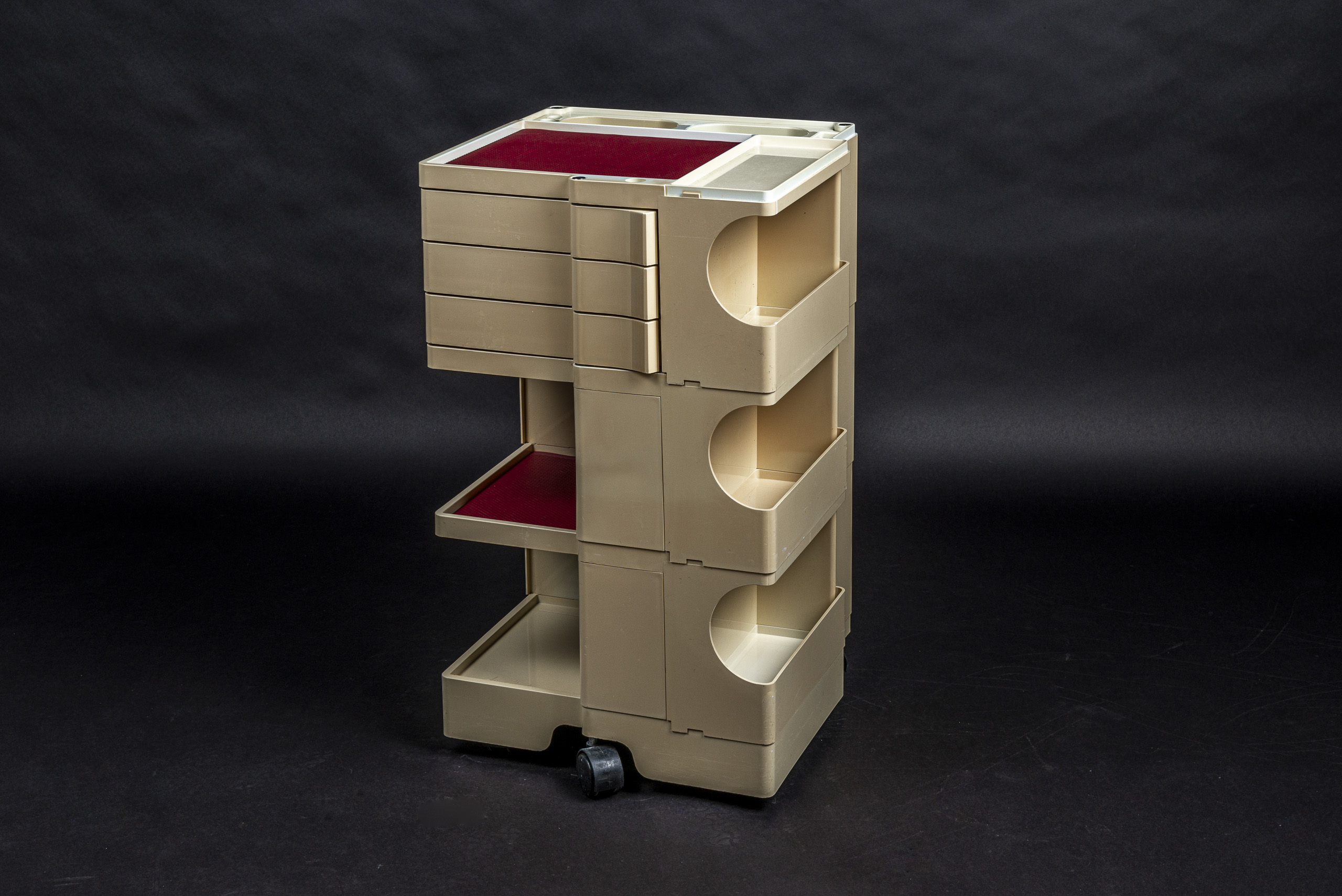 At this point in the course of events, I realized that the Boby's rehabilitation was in perfect alignment with the current thematic of my photographic work, an exploration of the life of objects and the signs that bear witness to their age. Just like humans, objects are marked by the passage of time and take on a patina that results from the aging process, like successive coats of varnish. Through photography, I attempt to reveal the beauty of products that succeed in aging with dignity. In the case of the Boby, removing the layers of dust and soil accumulated over the years brought to light the encrusted wounds, the scars that tell the story of its past. These indelible marks, large and small, contribute to shaping its identity; they tell its story. I placed red mats on some shelves to hide the more important stains, but these offer only temporary masking. The blemishes remain as witness to the cart's trajectory and the richness of its life.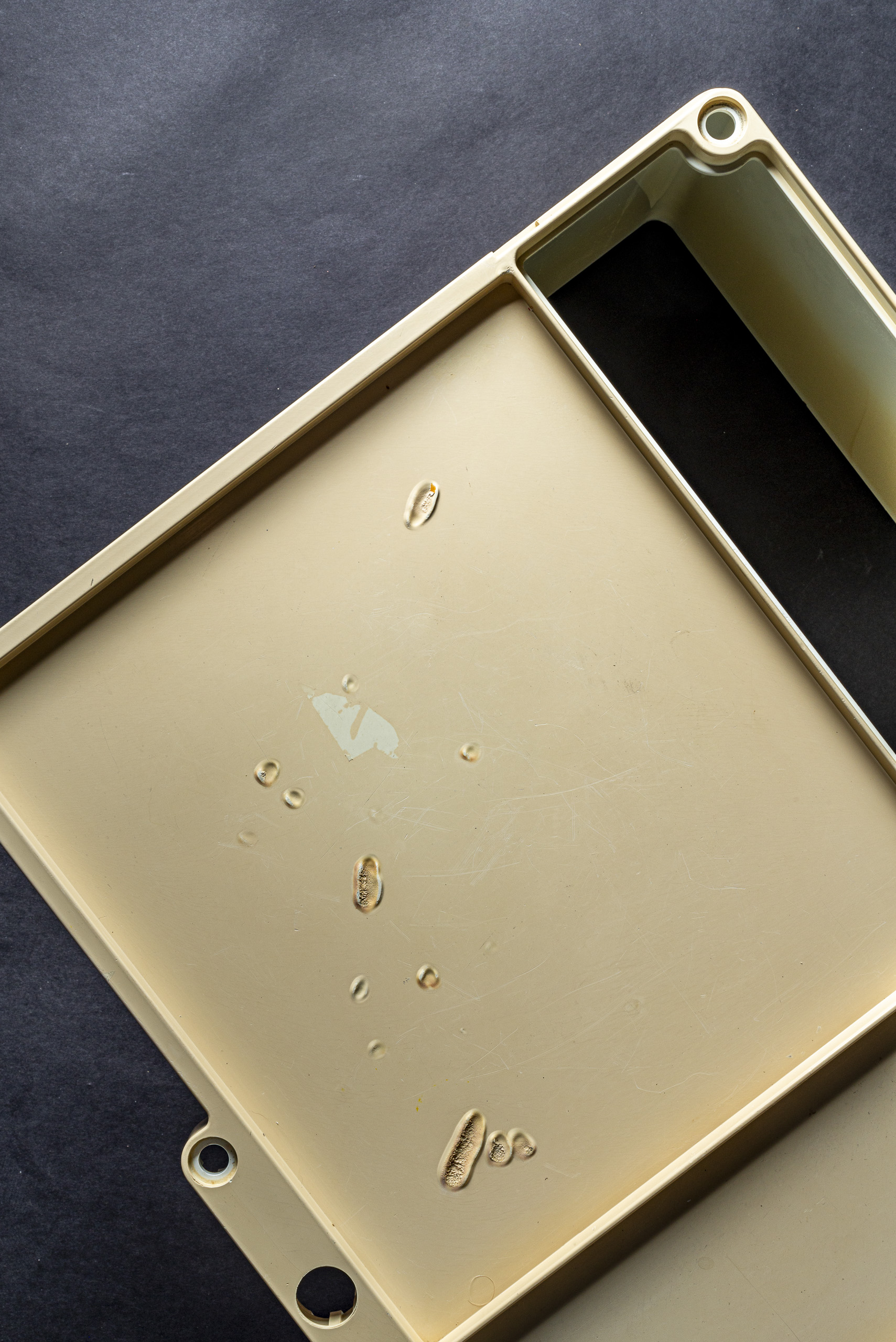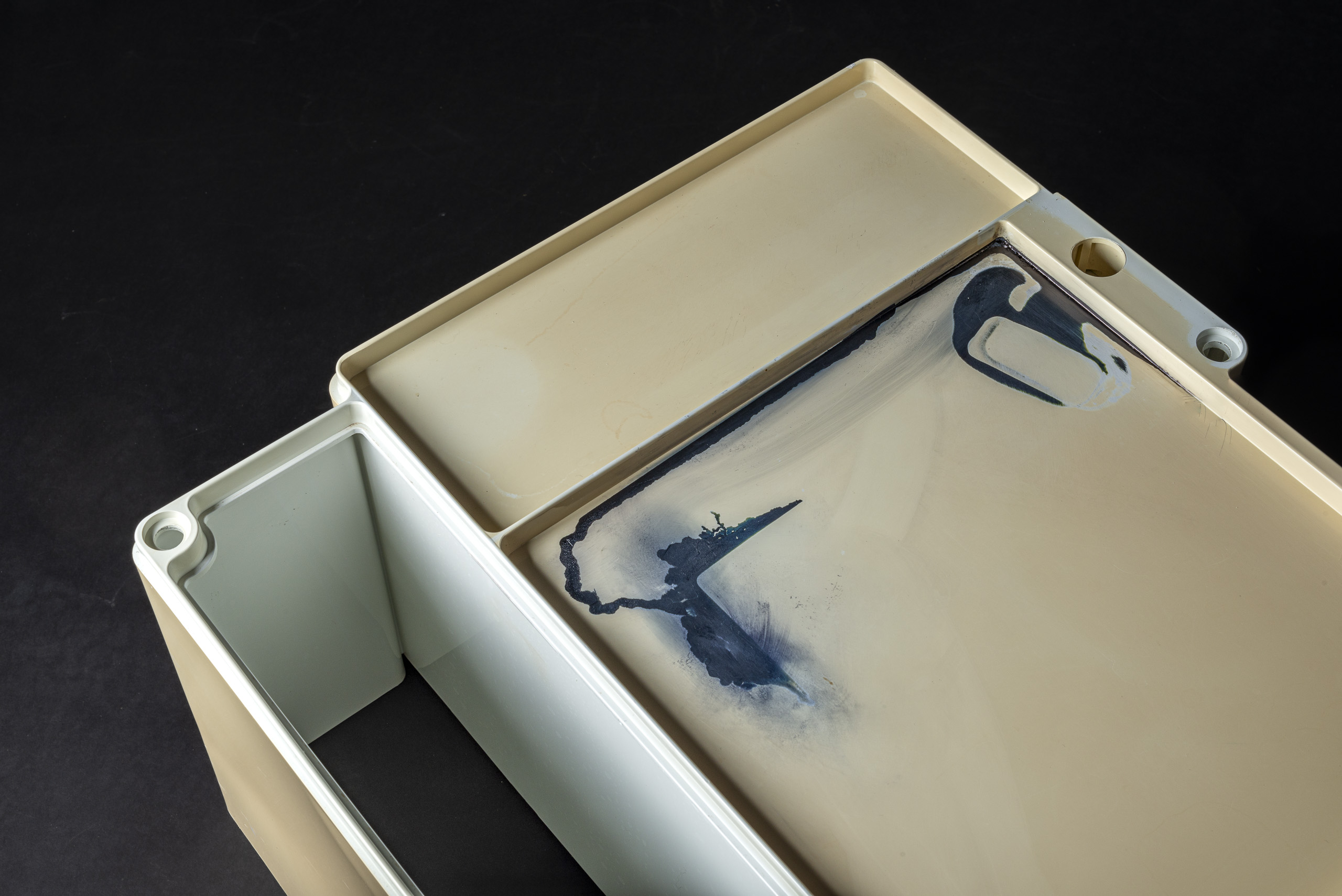 This project also got me to reflect on the factors that influence products' longevity. I've always suspected attachment to be a crucial determinant and the Boby is an interesting case in point. At its creation, Joe Colombo built into the Boby a surprising capacity to form durable bonds of affection even with those who never possessed the product. In my case, these links manifested themselves as an awakening of excitement, even after fifty years of dormancy. This long-term attachement results from an appreciation of the attributes of aesthetics, structural originality, technical innovation and functional resolution that were expertly merged into this one product. This accomplishment is obviously the work of a superbly talented designer, but it serves as well to demonstrate how a product's longevity can be closely linked to its capacity to create attachment.  In a society of consumption fuelled by an overabundance of ephemeral products,  the Boby artist's trolley is an excellent example of a product that has managed to survive though the years while retaining its dignity. Joe Colombo invested Boby with the vital DNA required to enhance its longevity. The photos that follow are an attempt at translating the appreciation that I feel for the qualities of shape, colour, articulation and mouvement that are characteristic of Joe Colombo's work. These attributes describe an object whose genes have predisposed from birth to a long life.